NFO Editor is a freeware program for editing the NFO files that serve as a base for GRF graphic files for the game Transport Tycoon Deluxe, TTDPatch and OpenTTD.
After decoding a GRF graphics file with GRF Wizard and the GRFCodec, you'll have an NFO (plain text) file, and one or more PCX or PNG image files. By editing the NFO file, you can alter the size and position from indivial game sprites (graphics). This is an almost impossible process to do by hand, while NFO Editor makes this a quick and effortless task.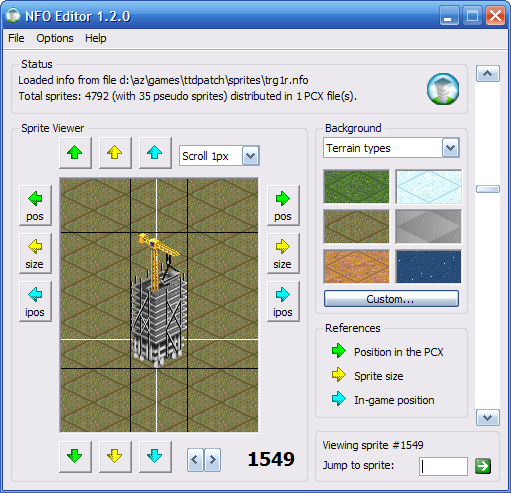 Features
Easily alter individual sprites position, size and in-game position with preview
Multiple backgrounds with landscapes and solid colors available
Optional grid window with all NFO sprites and their values
Ability to start GRF Wizard directly from the File menu
Download NFO Editor

Remarks
The program will only load NFO sprites decoded with the original GRF Codec (0.9.10) created by Josef Drexler (+GRF Wizard), and refuses to load sprites created with the GRF Codec developed by the OpenTTD team.
Discussion Topic
This program has a discussion topic here in the tt-forums.net. Feel free to post any feedback and suggestions there.
What's New
In NFO Editor 1.2.0
Resolved problem loading NFO's with inverted slash on PCX path
Sprites cannot be X or Y-positioned on values lower than 0px. This fixes crash when moving outside sprites outside PCX position.
Position buttons are now graphical, this ensures they are properly displayed regardless of system's Regional Settings
Program no longer crashes when opening sprites from an NFO with no PCX on the specified path, an error is shown instead.
More integration with the grid window, current sprite will be autoselected on grid
PCX to BMP conversion will never be performed twice for same file when switching PCX conversion mode after loading NFO
Added ability to load a custom background from external BMP, GIF or JPG
Fixed integration with the GRF Wizard to save and encode GRF (by removing last slash from sprites path)
The program now remembers more settings (axis and frame settings, recent paths)
Updated web shortcuts on the Help menu
Disclaimer
The content in this post is for general information purposes only. The information is provided by the author and/or external sources and while we endeavour to keep the information up to date and correct, we make no representations or warranties of any kind, express or implied, about the completeness, accuracy, reliability, suitability or availability with respect to the website or the information, products, services, or related graphics contained on the post for any purpose. Some of the content and images used in this post may be copyrighted by their respective owners. The use of such materials is intended to be for educational and informational purposes only, and is not intended to infringe on the copyrights of any individuals or entities. If you believe that any content or images used here violate your copyright, please contact us and we will take appropriate measures to remove or attribute the material in question.