GRF Wizard is a freeware program that serves as a GUI for the command-line tool GRFCodec, which is used to encode and decode GRF graphic files from the game Transport Tycoon Deluxe, TTDPatch and OpenTTD.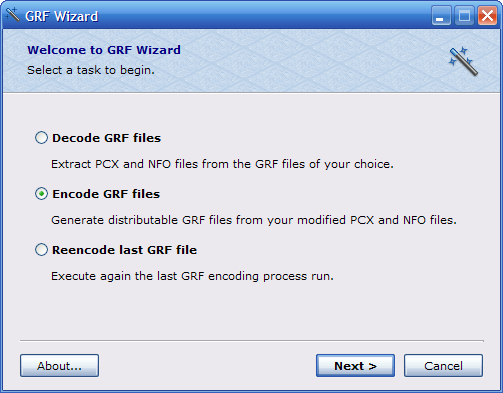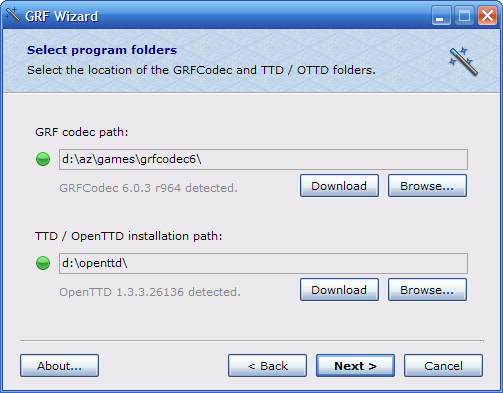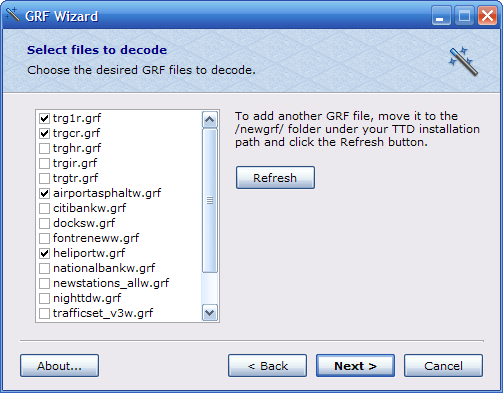 Features
Easily encode and decode preloaded GRF files
Scans all GRF files from newgrf folder automatically
Configure advanced color palette settings for Windows and DOS palette conversion
Check for updates directly from About dialog
Works with TT, TTD, TTDPatch and OpenTTD games
Works with all GRFCodec versions
Download
Version
2.0.2
Date
19-Jul-2014
License
Freeware
File size
779 KB
File type
Self installer EXE (x86)
Prerequisites
TTD / OpenTTD, GRFCodec
Download Now
What's New
In GRF Wizard 2.0.2
Fixed support for spaces in GRFCodec path (except Windows 9x)
Removed warnings when selecting paths with spaces (except Windows 9x)
Updated labels to reflect fact that PCX is not the only format supported by GRF Codec
In GRF Wizard 2.0.1
Complete GUI redesign with modern interface
Added compatibility with OpenTTD
Added ability to auto check for updates from the About dialog
Updated all links to GRF and other TTD resources
New TTD and TTDPatch version detection method via API
New GRF files selection method
Auto scan of newgrf folder to search for all GRF files available for encoding/decoding
Removed the Generate EXE file option because it's not really practical anymore
New installer program with INNO Setup
Minor bug fixes
Disclaimer
The content in this post is for general information purposes only. The information is provided by the author and/or external sources and while we endeavour to keep the information up to date and correct, we make no representations or warranties of any kind, express or implied, about the completeness, accuracy, reliability, suitability or availability with respect to the website or the information, products, services, or related graphics contained on the post for any purpose. Some of the content and images used in this post may be copyrighted by their respective owners. The use of such materials is intended to be for educational and informational purposes only, and is not intended to infringe on the copyrights of any individuals or entities. If you believe that any content or images used here violate your copyright, please contact us and we will take appropriate measures to remove or attribute the material in question.