PlayCD is a simple and compact audio CD player for Windows, with CD-Text and FreeDB info retrieval, and features a modern and realistic user interface. This software was first released in the site DivXLand.org, developed by Andrés as well.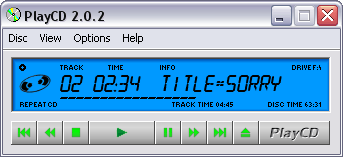 Features
Support for up to 8 CD/DVD drives
Automatic CD-Text and FreeDB disc info retrieval
Tray icon with control menu
Clear and realistic GUI, with scrolling album, artist and track info display
Compact design with low resources usage
Compatible with all Windows versions
Download Details
Version
2.0.5
Date
16-Mar-2006
License
Freeware
File size
533 KB
File type
Self installer EXE (x86)
Status
Discontinued
Prerequisites
VB6 runtimes
Download Now
What's New
In PlayCD version 2.0.5:
Improved drive letter change and drive reset process
CD drive is now auto scanned for media status
Corrected wrong disc info display after changing drive
Corrected issues when ejecting disc manually
Track title now shown immediately on track demand
Added always on top function
Fixed wrong disc type detection
Disclaimer
The content in this post is for general information purposes only. The information is provided by the author and/or external sources and while we endeavour to keep the information up to date and correct, we make no representations or warranties of any kind, express or implied, about the completeness, accuracy, reliability, suitability or availability with respect to the website or the information, products, services, or related graphics contained on the post for any purpose. Some of the content and images used in this post may be copyrighted by their respective owners. The use of such materials is intended to be for educational and informational purposes only, and is not intended to infringe on the copyrights of any individuals or entities. If you believe that any content or images used here violate your copyright, please contact us and we will take appropriate measures to remove or attribute the material in question.