DivXLand Subtitler was a free program for creating, editing and correcting external subtitle files. As of December 06 2004, DivXLand Subtitler has been superseded by DivXLand Media Subtitler, which remains free, and features an improved interface and much more capabilities than the original Subtitler program.
Screenshot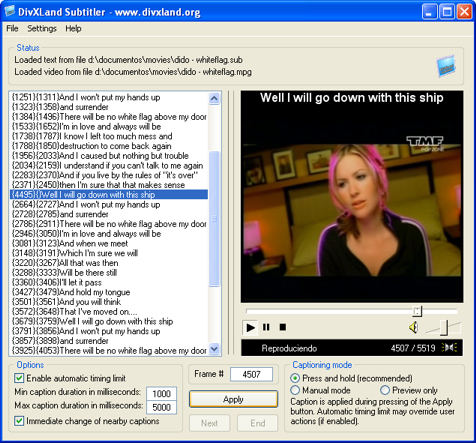 Features from Subtitler vs. Media Subtitler
DivXLand Subtitler was limited to external subtitle files in MicroDVD format (.SUB extension) only and did not include any of the advanced features that are present on Media Subtitler such as auto timing, corrections and subtitle format conversion. Subtitler was based on the legacy Windows Media Player 6.4 OCX control, and only supported AVI files.
DivXLand Media Subtitler includes many auto timing and correction features, spell check, subtitle conversion between 30 formats, audio bar implementation, subtitle embed wizard, multi-language interface and support for any video format compatible with Windows Media Player 9 and later.
Download
DivXLand Subtitler has been superseded by DivXLand Media Subtitler, please download it from its official site: