DivXLand Subtitler was a free program for creating, editing and correcting external subtitle files. As of December 06 2004, DivXLand Subtitler has been superseded by DivXLand Media Subtitler, which remains free, and features an improved interface and much more capabilities than the original Subtitler program.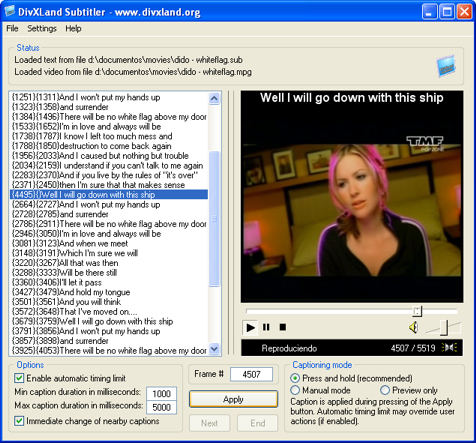 Features from DivXLand Subtitler vs. Media Subtitler
DivXLand Subtitler was limited to external subtitle files in MicroDVD format (.SUB extension) only and did not include any of the advanced features that are present on Media Subtitler such as auto timing, corrections and subtitle format conversion. Subtitler was based on the legacy Windows Media Player 6.4 OCX control, and only supported AVI files.
DivXLand Media Subtitler includes many auto timing and correction features, spell check, subtitle conversion between 30 formats, audio bar implementation, subtitle embed wizard, multi-language interface and support for any video format compatible with Windows Media Player 9 and later.
Download
DivXLand Subtitler has been superseded by DivXLand Media Subtitler, please download it from its official site:
Disclaimer
The content in this post is for general information purposes only. The information is provided by the author and/or external sources and while we endeavour to keep the information up to date and correct, we make no representations or warranties of any kind, express or implied, about the completeness, accuracy, reliability, suitability or availability with respect to the website or the information, products, services, or related graphics contained on the post for any purpose. Some of the content and images used in this post may be copyrighted by their respective owners. The use of such materials is intended to be for educational and informational purposes only, and is not intended to infringe on the copyrights of any individuals or entities. If you believe that any content or images used here violate your copyright, please contact us and we will take appropriate measures to remove or attribute the material in question.