DivXLand Bitrate Calculator is a freeware tool that allows the user to calculate the audio and video bit-rates for encoding DivX and XviD movies with a specific target file size, optimizing target video quality and reducing the wasted free space CDs and DVDs.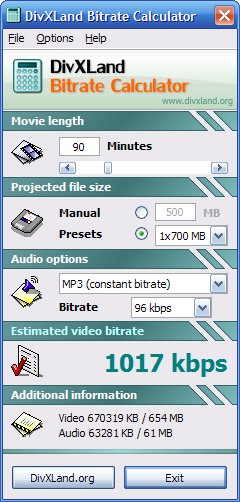 Features
Compatible with all DivX and XviD codec versions
Support for MP3 constant/variable bitrate, WMA, AC3 and WAV audio formats
Simple and clear interface, freeware
Multi-language interface, with system language auto-detection
Download
Please select a language to visit the DivXLand Bitrate Calculator's official webpage:
Disclaimer
The content in this post is for general information purposes only. The information is provided by the author and/or external sources and while we endeavour to keep the information up to date and correct, we make no representations or warranties of any kind, express or implied, about the completeness, accuracy, reliability, suitability or availability with respect to the website or the information, products, services, or related graphics contained on the post for any purpose. Some of the content and images used in this post may be copyrighted by their respective owners. The use of such materials is intended to be for educational and informational purposes only, and is not intended to infringe on the copyrights of any individuals or entities. If you believe that any content or images used here violate your copyright, please contact us and we will take appropriate measures to remove or attribute the material in question.