TTDXC Pro is a freeware program that allows the user to configure and update TTDPatch, a patch that provides gameplay enhancements and numerous bugfixes to Transport Tycoon Deluxe by patching its original binary.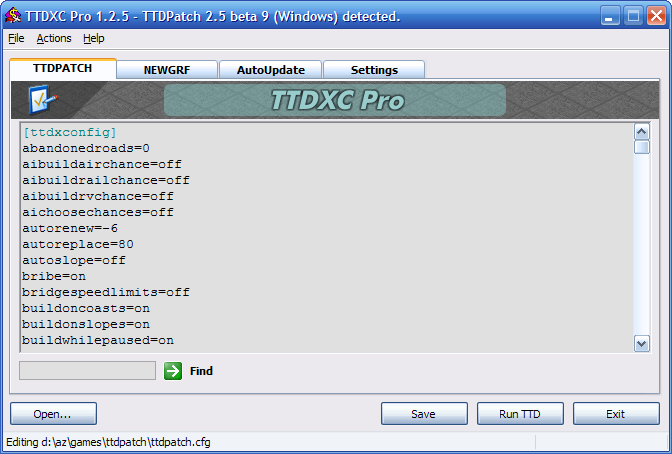 Features
All-in-one TTDPatch management and updating solution for advanced users
Check for updates and install latest TTDPatch versions directly
Edit ttdpatch.cfg and newgrf.cfg files directly with syntax highlighting
Customize TTD registry settings
Multi-language interface
Download TTDXC Pro
Version
1.2.5
Date
12-Dec-2004
License
Freeware
File size
1036 KB
File type
Self installer EXE (x86)
Status
Discontinued
Prerequisites
VB6 runtimes, TTDPatch
Download Now
What's New
In TTDXC Pro 1.2.5
TTDPatch updating process improved
Added Swedish translation
New multi-language installer program using INNO Setup
Minor bug fixes
Disclaimer
The content in this post is for general information purposes only. The information is provided by the author and/or external sources and while we endeavour to keep the information up to date and correct, we make no representations or warranties of any kind, express or implied, about the completeness, accuracy, reliability, suitability or availability with respect to the website or the information, products, services, or related graphics contained on the post for any purpose. Some of the content and images used in this post may be copyrighted by their respective owners. The use of such materials is intended to be for educational and informational purposes only, and is not intended to infringe on the copyrights of any individuals or entities. If you believe that any content or images used here violate your copyright, please contact us and we will take appropriate measures to remove or attribute the material in question.