JoeBot Configurator is a simple VB6 programmed utility for managing the JoeBot addon settings for the FPS game Counter-Strike.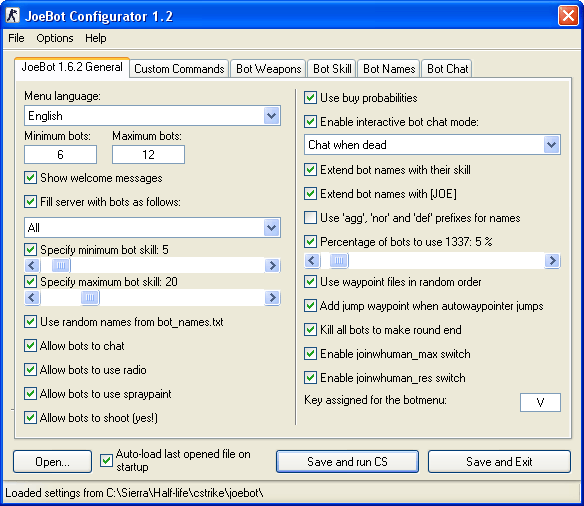 Download

Version
1.3.0
Date
7-Apr-2003
License
Freeware
File size
720 KB
File type
Self installer EXE (x86)
Status
Discontinued
Pre-requisites
VB6 runtimes, JoeBot 1.6
Download Now
What is JoeBot?
JoeBot is a bot for Counter-Strike and Half-Life. The JoeBot project was developed by Johannes Lampel, also known as @$3.1415rin, and was developed to entertain the players who can't or don't play Counter-Strike online. The bots use a waypoint based navigation system to travel around maps, and are capable of completing map objectives as well as killing the opposing force. JoeBot is available for both Windows and Linux platforms. The project was made open source circa 2002, after 2 years of development.
Disclaimer
The content in this post is for general information purposes only. The information is provided by the author and/or external sources and while we endeavour to keep the information up to date and correct, we make no representations or warranties of any kind, express or implied, about the completeness, accuracy, reliability, suitability or availability with respect to the website or the information, products, services, or related graphics contained on the post for any purpose. Some of the content and images used in this post may be copyrighted by their respective owners. The use of such materials is intended to be for educational and informational purposes only, and is not intended to infringe on the copyrights of any individuals or entities. If you believe that any content or images used here violate your copyright, please contact us and we will take appropriate measures to remove or attribute the material in question.