Overview
TTDXC Pro is a freeware program that allows the user to configure and update TTDPatch, a patch that provides gameplay enhancements and numerous bugfixes to Transport Tycoon Deluxe by patching its original binary.
Screenshot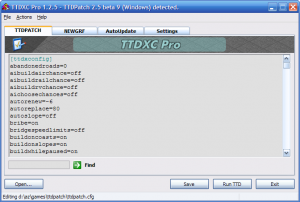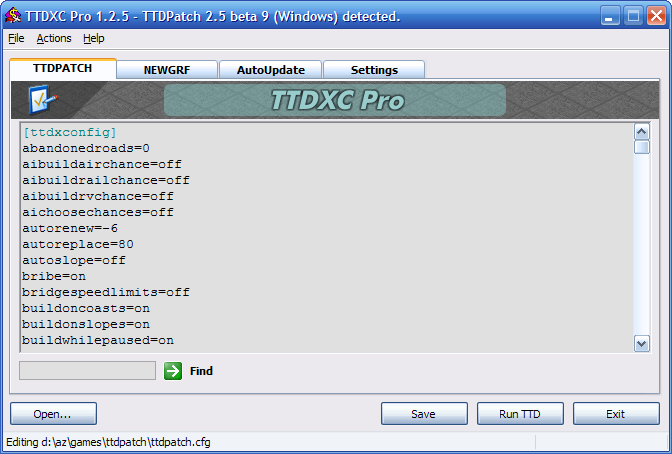 Features
All-in-one TTDPatch management and updating solution for advanced users
Check for updates and install latest TTDPatch versions directly
Edit ttdpatch.cfg and newgrf.cfg files directly with syntax highlighting
Customize TTD registry settings
Multi-language interface
Download
Version
1.2.5
Date
12-Dec-2004
License
Freeware
File size
1036 KB
File type
Self installer EXE (x86)
Status
Eventual compatibility upgrades
Prerequisites
VB6 runtimes, Transport Tycoon Deluxe, TTDPatch
Languages
Czech, Dutch, English, Finnish, Hungarian, Portuguese, Spanish, Swedish
Download Now
Translations
To add a new language for this program, please contact Andrés and ask for the english language file.
Remarks
TTDXC Pro has not been updated for a while. Links from the About dialog might be broken in some cases. Windows 7/8 compatibility is not 100% guaranteed.
What's New
In TTDXC Pro 1.2.5
TTDPatch updating process improved
Added Swedish translation
New multi-language installer program using INNO Setup
Minor bug fixes